This Alaska Yukon moose hunt originates in Whitehorse, Yukon Territory, where you will be greeted by your outfitter and then transferred to base camp with a spectacular 120-mile floatplane trip.  You may stay at the base camp or hunt out of one of the many spike camps in the area.  This hunt area covers 7,000 square miles (approximately 4.5 million acres) and produces bull moose that average 58 to 63 inches.  Bulls in excess of 65 inches are taken each season.
This area is filled with long valleys with numerous lakes. Moose are found anywhere from valley bottoms to high mountain basins with elevations ranging from 2,000 to 6,000 feet.  Our Yukon moose hunts are conducted from horseback, by foot or, if you prefer, by boat from one of the many lakes in the area.  This outfitter specializes in highly personalized service with professional staff who possess acute knowledge of the area.  All Yukon moose hunts are guided 1 on 1 to ensure the best opportunity for you to take a great trophy.  This outfitter has owned the same hunting area for many years and takes excellent trophies.  Many outstanding references are available.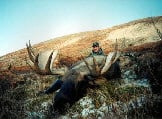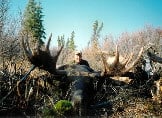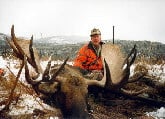 14-day Alaska Yukon moose hunt
(includes harvest fees for moose, wolf, wolverine and black bear)
Includes: Reception in Whitehorse, meals, accommodations, 1×1 guide service and trophy care.
Additional expenses: Air charter fee crating of trophies, shipping, meat processing, licenses, tags, trophy fees, GST, Canadian gun possession permit and gratuities.