Caribou bulls sport some of the most impressive antlers of any member of the deer family.  Their pure white capes and large antlers truly make them a magnificent trophy.
Caribou populations are in excellent condition throughout Canada and Alaska, with a second animal available on some hunts.  The North country is a caribou hunting paradise and a good bull caribou is a great mount for your trophy room.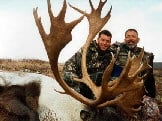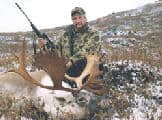 7-Day Guided Quebec Caribou Hunt with 5 Days of Hunting, Meals, Lodging and Trophy Care.
11 to 14-Day Guided Mountain Caribou Hunt with Meals, Lodging and Trophy Care. 
5 1/2-Day Guided Woodland Caribou Hunt with Meals and Lodging.