The Yukon Territory is home to one of the most prized big game trophies in the world – the "stone sheep".  This stone sheep hunt begins upon your arrival in Whitehorse, where you will be greeted by the outfitter.  You then take a float plane trip to sheep camp 120 miles north through some of the most magnificent wilderness country imaginable.
This hunt area covers 7,000 square miles (approximately 4.5 million acres).  Here at elevations between 4,500 and 7,000 feet, you will find stone sheep in abundance.  Rams in this area are very dark colored and regularly produce horn lengths in excess of 40 inches.  In past years, rams harvested in this hunt area averaged 10. 9 years of age and 39.5 inches in total horn length.
August and September 12-day stone sheep hunts are guided 1 on 1.  Horses are used the majority of the time, although you should be in good physical shape and prepared to do some hiking.  If you want a trophy Stone sheep, this camp offers some of the best in the world.  In addition, there is no harvest fee for a wolf, wolverine, and black bear on this hunt.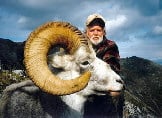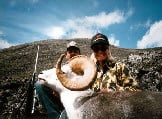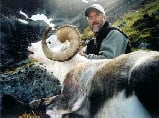 Yukon Stone Sheep Hunt: harvest fee
July 30-August 10, August 10-21,
August 21-September 1 and September 1-14
Includes: Reception at Whitehorse airport, transportation to hotel before and after the hunt, meals, accommodations, 1×1 guide service and trophy care
Not Included: Air charter, crating of trophies, shipping of trophies, hotel and meals before and after hunt, GST, Yukon hunting preservation fund, Canadian gun permit, licenses and tags.
How to Get There: fly to Whitehorse, Northwest Territory.  Make arrangements to arrive at least 1 full day prior to your scheduled hunt date and departure 1 full day after your hunt.  We can assist you with all travel arrangements.