The Powder River basin region of Southern Montana has long been recognized for its outstanding mule deer populations.  The rolling sage brush hills around Miles City continues to produced many trophy mule deer bucks and this large private ranch is no exception. This Montana mule deer hunt takes place in late October and November during the peak of the rut and provides hunting excitement at it's best.  This ranch allowed no hunting for several years prior to the 2004 season, at which time only a few hunters were allowed on the property.  The 2008 season should provide excellent opportunity for a few lucky sportsmen to take a great mule deer buck.This is a 5-day mule deer hunt guided 2×1 or 1×1 for an additional fee.  Meals, lodging and trophy care are included.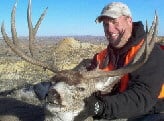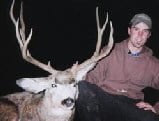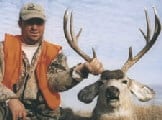 5-Day Guided Montana Mule Deer Hunt with Meals, Lodging and Trophy Care.
Contact us for Montana hunting license information.