The high desert country of southern Arizona is home to one of North America's most elusive big game species ~ the coues whitetail deer.  More commonly known as the "Grey Ghost", this miniature member of the whitetail family inhabits some of the most rugged terrain that the southwest has to offer and requires good physical conditioning to properly enjoy the hunt.  Coues deer hunting requires excellent optics, finely tuned rifles and plenty of patience.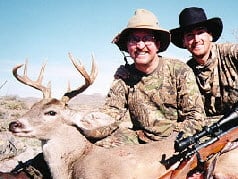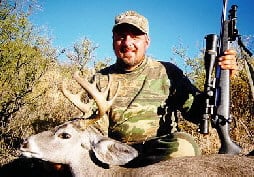 These couse deer hunts are conducted on private and public land in the Coronado, Tonto and Sitgreaves mountain ranges from remote tent camps accessible only by 4×4 or foot.  Three coues bucks taken on this hunt now rank in the top ten of SCI records.  If you are looking for a rugged hunt for a unforgettable trophy, make a coues deer one of your next pursuits.
Hunt Includes: Airport pickup in Tucson Arizona, transportation to hunt area, meals, lodging, 1×1 guide service and trophy care.  License not included.  Arizona coues deer licenses for rifle and muzzle loader are issued by drawing and archery licenses are available over the counter.