One of Africa's grand pursuits…the Lord Derby Eland.  We hunt the Lord Derby Eland in the Central African Republic, near the Bamingui region formed by a series of plains and plateaus.  It is covered by a bushy savannah interspersed with wooded galleries and is home to the Bongos, Giant Forest Hogs and Sitatungas.
The hunt is essentially devoted to tracking the Lord Derby Elands, Lions, Roan Antelopes, Buffaloes (Central African Savannah Buffalo) and several savannah antelopes.  In addition and also from the same camps, some forest game such as Bongo, Giant Forest Hog, Red River Hog, Yellow Backed Duiker, Blue Duiker and Sitatunga can be hunted.  It is also possible to hunt Western Greater Kudu and Giant Topi in the northern part of their hunt area.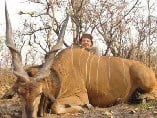 Going after big game in Africa requires excellent professional hunters and camp staff, as well as superior accommodations in very comfortable bungalows.
Your 13-day African hunting safari allows you take 1 Lord Derby Eland, 2 buffaloes, 1 yellow backed duiker, 1 blue duiker, 1 red flanked duiker, 1 western blue duiker, 1 red river hog and 1 warthog, all on a trophy fee basis.  Additional animals can be taken on longer safaris.  Call or email us for details.
Price includes reception and assistance at the Bangui airport, transfers from Bangui airport to the hunting area and back by charter plane, the organization of your safari with 4×4 vehicles, professional hunters, trackers, porters and skinners, full board, accommodations and drinks at camp, loan of a rifle (375 H&H Mag) and scope if necessary and field preparation of your trophies.  Call or email us for additional costs and trophy fee schedule.