For the experience of a lifetime, fish some of Western Colorado's high country lakes, streams and beaver ponds located in the majestic Flat Tops Wilderness.  This is some of Colorado's finest waters for native wild cutthroat, brook and rainbow trout.  Enjoy superb fly fishing accessible only by horseback and mule pack-string.  We can customize your trip to meet your individual desire.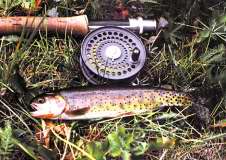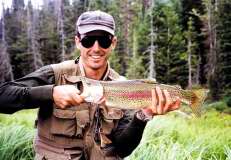 This outfitter has been in business in these mountains most of his life and knows where the good fishing spots are.  Base camp for this trip is located at the end of a four-wheel drive road at an elevation of 9,200 feet.   This is a convenient comfortable camp, where you will be served excellent meals and find the service second to none.   Daily rides are taken to some of the hottest fishing spots in the wilderness by some of the finest mountain horses.
For those who desire a more remote pack in experience, arrange for a trip up to some 11,000-foot lakes, where the scenery is as spectacular as the fishing.  You can arrange to spend several days at each camp. 
If you desire to learn the sport of fly fishing, we can arrange for you to attend the fly fishing school taught by certified Orvis instructors.  Many references available.
Dates and Prices Vary
Call for quote and available dates
All fishing trips are fully guided and include all meals, lodging (tent Camp), guides and saddle horses, pack mules, riding instructions (if needed).
You are required to purchase your own fishing license prior to arrival at the ranch.
Non fishing/riding guests are welcome at base camp $100.00 per day.